Couldn't find your ideal parking space in Doncaster East?
Request a space in Doncaster East and let other members know you are looking for parking in this area.
Notify me when a new car park is listed in Doncaster East
Home
Doncaster East Parking
Parking Doncaster East
The joys of driving: enjoying the view, feeling the wind in your hair and being on time. But to everything there's usually a downside and for driving, it's finding parking. VIC drivers often don't find this near their destinations. Is there a way to enjoy cheap parking for rent whether you need it for an hour, a day or a month? In the Doncaster East and Doncaster area you CAN find one of 3 cheap parking options & reserve it for your personal use. It's done via Parkhound where hosts with vacant spaces advertise their spots that you can use to park your car. Some are priced at $262.47 so you can see it's the budget friendly parking option Australia has been looking for.
Parkhound is swiftly becoming a favourite option for finding Doncaster East parking at low prices such as $262.47 a month. And the same is happening all over VIC, giving Australia drivers a effective way to manage their time and budgets. You can rent a garage from Doncaster East hosts who don't use the spaces themselves. The Doncaster East parking will be reserved for your own use, so you won't have to waste time looking for vacant spots ever again. The Doncaster East parking options are all advertised on our platform and drivers simply contact parking hosts via Parkhound. The entire booking is facilitated on our platform. And Doncaster East hosts, you're welcome to join too and earn $210 a month as a new income stream.
Take the first step towards affordable parking Doncaster East drivers can use for only $62.43 a week: visit our website or download our app. A search bar helps you find the Doncaster, Donvale and Doncaster East parking. Then you can filter them according to price and other features. If you need a spot near , search for it on Parkhound. New Doncaster East parking options are added on a regular basis and there's even a Waiting List if you can't find the ideal space for you. Add your details and new VIC hosts can contact you if they meet your requirements. Australia is buzzing with how Parkhound transforms parking.
Thank you, we have received you request.
x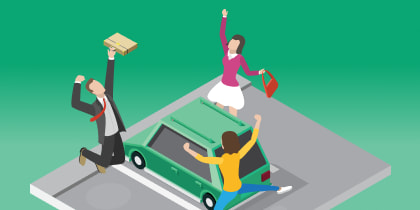 Still need cheap parking?
Get parking up to 50% cheaper by using Parkhound.
Signup to get notified as new parking spaces open up in Doncaster East.