Couldn't find what you were looking for? Get notified of new spaces in Belconnen

Thanks, all done! We'll send an email to when new spaces are listed in Belconnen.

Have a question or need help? Contact us
Parking Belconnen
Venture into the Belconnen Town Centre and you should prepare yourself for some heavy traffic. You can't expect any different in a suburb that contains governmental buildings, commercial areas as well as residential apartments.
So, whether you're there for business, near Lake Ginninderra, or pleasure, while visiting friends in Emu Ridge, where will you park? The truth is, when you're considering parking Canberra in general is not very accommodating.
It's for scenarios just like this one in Belconnen that Parkhound was launched a few years ago. Today it's the proud winner of the ABA's Best New Product in 2014. But we're most proud of the over 100 000 Australians that we've been able to help find affordable parking Belconnen based and beyond. Yes, you can find Parkhound solutions in most Aussie towns.
Ready to find out more about this innovative service?
Parkhound: For Affordable Parking Belconnen Drivers Now Have a Solution
Most drivers try to get by using traditional, commercial parking vendors. The problem is that there aren't always enough open bays, especially during busy times around government departments such as the Cameron Offices. You can never predict whether there will be an open space for you and of course, parking is quite pricey!
That all changes when you use Parkhound to secure parking. You book in advance and then your parking is allocated to your vehicle.
You simply go online, find a parking Belconnen host, or even neighbours like Lawson, Turner and Kaleen have listed that suits your needs and send a booking request. Then you and the host communicate via the Parkhound platform & we assist with contracts, payments and advice.
This is a handy method to secure monthly parking Belconnen locals need near their offices. But the infrastructure also works for short term use when you visit any Australian city.
Don't worry, we created a user-friendly website and app, so booking is easy!
Now where do all these parkings come from?
Parkhound: The New Way for Property Owners to Make Additional Income
The solution to the lack of parking Belconnen experiences lies with property owners and anyone who has open spaces they're not using. If it's big enough to park a car, it can be advertised as parking Belconnen drivers can rent from you. This includes, but it's not limited to:
- Garages
- Driveways
- Covered parkings in large parking garages
- Car ports
- Gardens
As long as it's safe and using the space for parking won't obstruct traffic, you can list it.
Here, again, we made sure to provide a streamlined experience, so it only takes a few minutes to add your details to our listings. Just add the following:
- Descriptions of the space.
- Confirmation of security features, such as CCTV cameras or access cards.
- The suggested rate; we'll help you determine the ideal rate with our rate calculator.
- Images of your available parking Belconnen drivers can rent from you.
- Dimensions.
This helps drivers determine which parking will work for them, without even visiting your premises. The more information you provide, the sooner you'll have a booking.
Within hours or days, you can have a driver using your space. Some hosts earn as much as $400/month! So far, our hosts have earned a total of almost $25 Million. Now it's your turn!
Parkhound: The Solution to Some of Society's Common Challenges
So, why is Parkhound so popular? And why did we get nominations for prizes such as the Deloitte Rising Star Award?
We think it's because our creative engineers devised plans to solve many challenges you struggle with on a daily basis. Don't you want the following in your life?
Less Traffic
What happens when fewer people have to keep on circling city blocks looking for parking? There are remarkably fewer cars on the road! That means rush hour traffic can clear up faster and even those who don't use Parkhound yet, will get off the road quicker.
The sooner more drivers start using Parkhound, the sooner many Aussie cities can experience some relief from traffic congestions.
Lower Parking Fees
You'll appreciate the unique approach to parking Belconnen locals can use now, because you can save +/-50% on parking expenses when you use Parkhound, rather than commercial vendors.
Rates are kept low because we help hosts pick market related, cheap rates for parking Belconnen drivers can afford. Note that drivers can request lower rates for long term use, allowing you to save even more!
Countering Stressful Living
You know how tense you are when you get out of the car after a morning searching for parking in rush hour traffic. Now imagine never experiencing that stress again! Or perhaps you're worried that you won't get parking near the train station, miss your train and be late for a meeting? All that is in the past when you have allocated parking for your vehicle whenever you're driving somewhere.
Helping You Save Time
Less time in traffic means more time for other activities, such as being on time for work. But also, you can spend more time at home in the morning because you don't have to leave early just to make sure you get a parking spot near the office.
You'll get more done each day when you start using Parkhound.
Benefiting the Environment
And why not use Parkhound simply to minimise your carbon footprint? Limiting your time on the road by planning your parking means fewer emissions from your car.
Can you see now why Parhound is the solution to parking Belconnen has been waiting for?
What is your reason for trying out Parkhound this year? We'd love to hear your story! Leave some feedback and if you have questions, our friendly team will get back to you soon.
Thank you, we have received you request.
x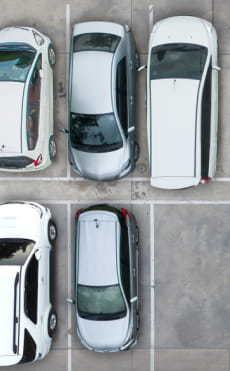 Still need cheap parking?
Save up to 50% on parking by using Parkhound
Signup to get notified when new spaces open up in Belconnen.
Thanks
All done!
We'll send you an email to
when new spaces are listed in Belconnen