Couldn't find what you were looking for? Get notified of new spaces in Abbotsford

Thanks, all done! We'll send an email to when new spaces are listed in Abbotsford.

Have a question or need help? Contact us
Parking Abbotsford NSW
One of the best things about Abbotsford is the melting pot of industrial architecture mixed with open green spaces. Creatives and families are drawn to its artistic charm. From converted factories to trendy bars and contemporary cafes along Johnstone Street, you're certainly spoilt for choice.
Take your pick from Abbotsford Convent's art workshops, or browse the markets at your leisure. Kids enjoy petting the animals at Collingwood Children's Farm, plus renting a boat from the Edwardian boathouse in Fair is a fun day outing.
There is one challenge though.
Local public transport can be a challenge. There's also limited parking on apartment-lined streets.
The last thing drivers want to worry about is traffic and finding what parking Abbotsford has available. This is where Parkhound can help. It's easy, cost effective and extremely convenient.
Parkhound Explained
Parkhound is the answer to cheap parking Sydney needs. Australia's number one parking marketplace, it started in 2013 to help drivers find secure parking options in their local communities.
Through the Parkhound app, hosts with available parking spaces can list them for drivers to rent out. Hosts can start earning a passive income by freely listing their unused parking spaces and monthly payments are guaranteed. Hosts become part of the 10,000+ strong Parkhound community enjoying monthly parking Abbotsford and all other suburbs in Australia have available.
Drivers reap the rewards of saved money and avoided parking fines. With access to the online database, they can take their pick to find the nearest available parking space and pay half of what traditional parking solutions would cost. The added advantage of stress-free parking makes Parkhound the sensible solution.
What Can I List?
Parkhound makes it possible for drivers to book a monthly parking Abbotsford hosts list. They advertise various parking spaces on the platform. The amount you earn depends on your parking spot's location. The most popular parking Abbotsford locals require include:
Driveways
Help out an Abbotsford neighbour by listing your empty driveway. You need a minimum size of 2.5m x 5m, with a space that could include lighting and CCTV. You decide the driver's access times, but hosts generally allow this 24/7. This is all you need to earn up to $300 a month.
Indoor Lot
When inner city parking is hard to find, you can help commuters out and start receiving a monthly amount of up to $450. To list your indoor lot, you need a minimum size of 2.4m x 5m, with a remote or swipe pass. Hosts tend to grant Drivers 24/7 access. CCTV, lighting, security gates, security patrols, or underground parking is advised. Locals and tourists will benefit from the cheap parking Abbotsford residents can offer.
Lockup Garage
If you have an empty lockup garage, you're in high demand! To list it on Parkhound, make sure it's a minimum of 3m x 6m with a key, remote or swipe pass. Most hosts select to give drivers access 24/7. Your space could include CCTV and lighting and you're well on your way to pocketing $450 each month.
Outside
Wondering what to do with your outdoor parking spot? There are always locals looking for the extra space. All you need to do for a Parkhound parking Abbotsford locals will willingly pay for, is ensure it's a minimum size of 2.4m x 5m. Again, while you pick the access times, most hosts permit this 24/7. Your space could include CCTV and lighting. This all you need to make a monthly amount of up to $300.
Undercover
Got an available undercover carport? List it and get up to $400 per month. Your only requirements are a minimum size of 2.5m x 5m. As in most cases, hosts determine drivers' access times, but most are happy to do so 24/7. Your space could include CCTV and lighting & you're good to go.
How Can I Be a Parkhound Host?
To become a Parkhound Host, all you need is an empty car space. In three simple steps you can start earning what monthly parking Abbotsford drivers pay you, which can be up to $400/month:
1. List: Within five minutes, sharing three photos, your space's dimensions and features you can freely list your empty car space. Drivers looking for available parking near their workplaces or homes can locate car parks anywhere in Australia from their iPhones or Android devices.
2. Accept: You'll receive a driver's booking request via SMS and email. Simply accept a booking request suitable to you.
3. Earn: Once your Driver starts using your space, you'll receive monthly earnings deposited into your bank account. This can amount to as much as $4,200 each year.
What's The Next Step?
Sold on the idea of becoming a Parkhound host? You now know the array of options for parking Sydney locals can book. Don't let your driveway, indoor lot, lockup garage, outside or undercover parking bay be a wasted space!
Parkhound makes it easy for you to make some extra money from the cheap parking Abbotsford locals, and locals from neighbouring suburbs like Chiswick, Wareemba and Five Dock, are looking for! Check out what other parking Abbotsford hosts already have on offer. Fill out our online form to receive a personal quote to find out how much you can earn.
Our Parkhound team can help you create the perfect listing so you can begin your earnings immediately.
A few details are required in order to get you started. If you need any assistance, contact us and we'll help you pronto. Let's solve parking in Australia!
Thank you, we have received you request.
x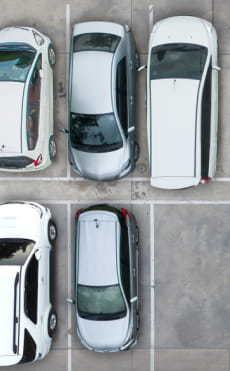 Still need cheap parking?
Save up to 50% on parking by using Parkhound
Signup to get notified when new spaces open up in Abbotsford.
Thanks
All done!
We'll send you an email to
when new spaces are listed in Abbotsford